This page details my immediate family. There is a separate page on this website for each of them, together with a page for each niece & nephew.
---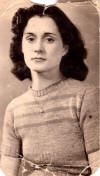 My mother: born in Cradley Heath in 1921. Married my dad, James, during WWII. Divorced. She re-married, Joe Harvey. More ...

---

My dad: born in Glasgow in 1916. He never knew his own father as he was killed during the battle of the Somme 8 months after my dad was born. My father passed away at home on 8th October 2002. More ...

---

Barbara: born at the house of my grandmother, in the days when these things were done at home and in the company of family. Married Ken Aldridge in 1964. My sister, sadly, passed away on 31st May 1998. More ...


---

Beverly: also born at the house of my grandparents, at 14 Greenfield Avenue, Cradley Heath. After leaving school she became firstly a nurse before training as a midwife. Having met Rob Bevan she went with him to Chicago where he was working as a metallurgist. However, she was unable to stay within the USA so moved to Canada where she stayed with relatives. The travelling became impossible so she and Rob married in Canada thus enabling her to move to Chicago. They had their blessing to that wedding in the UK on 18 December 1971. More ...
---

Barrie: born at home at 8 Wylde Crescent, Rowley Regis. At the age of 16 he joined the Royal Navy. He married Jane Wimbush at Hasbury Methodist church in July 1980. More ...



---

Belinda: the only one of my siblings to be born in hospital - Mary Stevens maternity in Stourbridge. More ...



---
---